Colorado – Colorado Department of Transportation crews will be out in force for a multiple wave storm that will affect much of the state this week. The first wave will reach the mountains with heaviest accumulations in the southern mountains beginning Monday through Tuesday afternoon, with impacts through Thursday. Strong winds east of the Continental Divide to the Kansas border are expected most of Tuesday, with the winter storm expected to arrive along the Front Range Tuesday night and lasting through Wednesday. Hardest hit areas are anticipated to be in southern Colorado from the Palmer Divide to the southern border and the southwestern mountain passes.
Various parts of the state will get hit with snow at different times, which means motorists could encounter rapidly changing weather and road conditions, including blowing snow and poor visibility caused by high winds.
CDOT crews will be out 24/7 clearing roads beginning with interstates and the most heavily traveled routes first during the storm. Once the storm has tapered off, they will plow the state maintained secondary routes. Cities and counties are responsible for clearing local and residential roads – not CDOT.
Drivers are urged to "know before you go", check road conditions on COtrip.org, and stay on top of the latest forecast information as the winter weather evolves.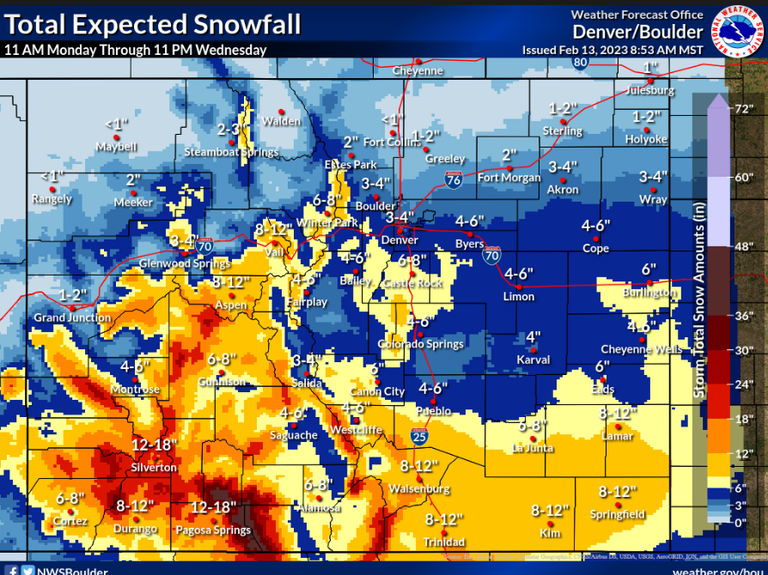 A safety closure is a precaution taken during inclement weather to reduce the probability of traffic incidents, increased congestion or other safety-related factors. During a safety closure, traffic may be stopped on the interstate, turned around or directed to an exit. Safety closures help decrease delay times, and, above all, keep travelers safe.
When weather conditions warrant, CDOT will activate the Traction Law. If weather conditions deteriorate, CDOT will activate Chain Laws for passenger and commercial vehicles. Motorists will be alerted to an active Traction or Chain Law by highway signage, COtrip.org and traffic/roadway condition alerts. For more information on the Traction Law and Passenger Vehicle Chain Law requirements, visit codot.gov/travel/winter-driving/tractionlaw. For more information on the Commercial Vehicle Chain Law requirements, visit codot.gov/travel/colorado-chain-law. To learn more and view helpful tips for winter driving, visit winter.codot.gov.
If motorists must head out during this winter storm, they are urged to visit COtrip.org and download the COtrip Planner app ahead of time. Motorists are now able to sign up for travel alerts through COtrip.org to see if there are any highway closures or impacts along their favorite routes. The COtrip Planner app also offers a "Trip Planner" feature that allows motorists to map out their routes and receive updates about road closures or incidents along the way. Motorists can turn on the "Hands-Free, Eyes Free" feature to receive these alerts via voice notifications and avoid routes with impacts. Visit the Google Play Store (Android devices) or the Apple Store (iOS devices) to download!
Travelers are urged to "know before you go." Gather information about weather forecasts and anticipated travel impacts and current road conditions prior to hitting the road. CDOT resources include:
 Contact CDOT