By Ajeesh Kuttan
Published: February 3, 2023
Rash driving is a major issue in India and this is often the cause of accidents on the road. From two-wheelers to heavy vehicles like buses are often driven rashly on our roads and we have seen several videos of the same online. Recently, a Delhi Transport Corporation's (DTC) low-floor bus ended up in a subway after the driver lost control on the vehicle while trying to avoid an accident. Before landing in the subway, the bus also hit a Maruti Brezza SUV which was on the road.
The video has been shared by Prateek Singh on his YouTube channel. As per various media reports, the DTC low-floor bus was returning from Delhi's Dhaula Kuan to Naraina depot after dropping off passengers. When the accident happened, Driver Rohtash (53), Conductor Gaurav (23) and Marshal Ramesh (44) were present in the bus. While coming back, a two-wheeler rider suddenly came in front of the bus and in an attempt to save the two-wheeler rider, Rohtash turned the bus away from the biker and towards the empty footpath. The driver also realised that the brakes on the bus were not working and it was not stopping.
Also read: Maruti Brezza Diesel takes on Mahindra XUV300 Petrol in a drag race
While trying to steer the bus away from people and other vehicles on the road, the bus also hit a Maruti Brezza on the road which had two passengers in it. The accident happened at around 12:15 pm and there was no one on the footpath and subway crossing. Even after hitting the Brezza SUV, the bus did not stop and directly fell into the subway crossing. The belly rested on the stairs while the rear wheels and the engine was in the air. The driver Rohtash The Indian Express that the brake pedal of the bus had stopped working and in order to save commuters, he had to steer the bus away from the road out of compulsion.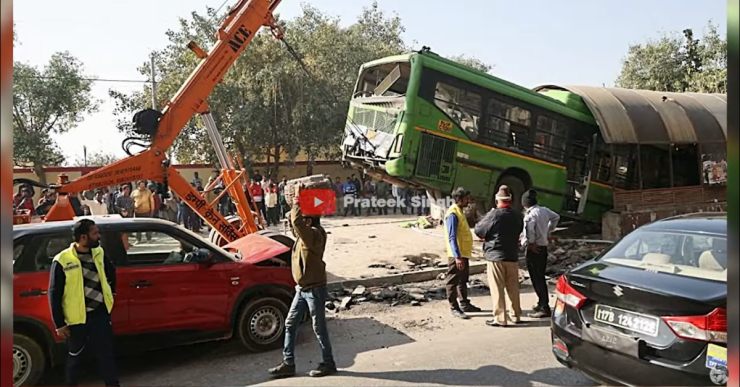 The driver and conductor sustained minor injuries on the forehead while the marshal sustained abdomen injuries. A police officer said "Two people who were present in the car are safe. The driver and the marshal have been discharged from hospital, while the bus conductor is undergoing treatment for minor injuries. DCP (West) Ghanshyam Bansal told that they have received information about the accident and have initiated inquiries about the incident. One of the senior officer said, "The bus driver in his statement said a two-wheeler came in front of his vehicle and he forcefully turned the vehicle to the other side and ended up ramming the car… after hitting the car, the driver said the brakes of the bus failed and he rammed into the subway located near the Naraina flyover."
After the accident, the DTC Karamchari Ekta Union also came forward and issued a statement that said the brakes of the bus had failed to work and that is what had led to the accident. Police has already taken action and has lodged a case under IPC section 279 for rash and negligent driving, and 337 ( causing hurt by act endangering life or personal safety of others) against unknown persons.
Via: TIE
Also read: Modified Royal Enfield Thunderbird 500 motorcycle from Eimor Customs look beautiful
Nov 01, 2022
Sep 26, 2022
Aug 24, 2022
Feb 07, 2023
Jan 29, 2023
Apr 09, 2022
Mar 05, 2023
Mar 05, 2023
Mar 05, 2023
Feb 07, 2023
Jan 29, 2023
Apr 09, 2022
Cartoq is India's largest auto content company with more than 20 million users accessing the latest automobile news, new launches, reviews & other trending stories every month… See More
© 2023 CarToq – India's #1 auto content site
All rights reserved | Copyright Policy | Terms of Use | Privacy Policy