A 19-year-old woman was killed after being struck by a wrong way driver on Saturday afternoon. The Village of Chenequa Police Department responded to a car crash on eastbound STH 16 just west of STH 83.
The call came in at 2:40 p.m. for a wrong way driver accident on HWY 16. The car was traveling west in the eastbound lanes. A driver of one of the vehicles was removed from their car.
Flight for Life was called after a car crash on Highway 16 in the Village of Chenequa on Saturday. 
A 19-year-old woman was killed after being struck by a wrong way driver on Saturday afternoon. The Village of Chenequa Police Department responded to a car crash on eastbound STH 16 just west of STH 83.
The call came in at 2:40 p.m. for a wrong way driver accident on HWY 16. The car was traveling west in the eastbound lanes. A driver of one of the vehicles was removed from their car.
Flight for Life was called after a car crash on Highway 16 in the Village of Chenequa on Saturday. 
VILLAGE OF CHENEQUA — A 19-year-old woman was killed after being struck by a wrong way driver on Saturday afternoon. The Village of Chenequa Police Department responded to a car crash on eastbound STH 16 just west of STH 83. Witnesses told police one of the cars involved entered the eastbound lanes of STH 16 going the wrong way. The car then collided with the other car head-on in the eastbound lanes of traffic.
The driver of the wrong way car is a 47-year-old female from Sullivan and was the sole occupant. She was transported to Aurora Summit Medical Center via ambulance where she currently remains in critical condition.
19-year-old Brooklyn Gridley, of Dousman, required extrication to remove her from the vehicle. Gridley was then taken via Flight for Life helicopter to Aurora Summit Medical Center where she subsequently died from her injuries related to the crash.
Stay up-to-date on all the latest Waukesha County news with a subscription: Click here
This matter is currently under investigation by the Village of Chenequa Police Department and the Waukesha County Medical Examiner's Office. No formal charges have been issued at this time. Wisconsin State Patrol was requested for assistance in conducting reconstruction of the crash.
The Village of Chenequa Police Department would like to recognize the numerous law enforcement agencies that assisted in the incident to include the Delafield, Hartland and Town of Oconomowoc Police Departments, the Waukesha County Sheriffs Office and the Wisconsin State Patrol.
"We would like to thank those departments providing medical and fire assistance to include Lake County Fire and Rescue, the Hartland Fire Department and Flight for Life Emergency Transport System. We are also grateful for the numerous citizens that stopped to offer assistance or provided their witness statements of the incident," police said.
 
DIGITAL: JUST $10 PER MONTH
PRINT+DIGITAL: AS LOW AS $21 PER MONTH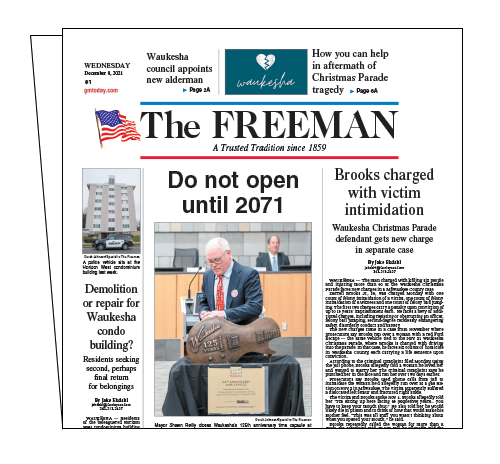 Delivered Tuesday-Saturday